Where is the Best Place to Follow in Buying Penny Stocks?
To answer that question, we are going to look into the top results from google and youtube.  The top pick from google goes to investopedia.com and from youtube ziptrader. Each month they recommend the top penny stocks to buy now.  They are both great resources. Into reading this blog, you will see there is money to be made by using their picks; however, we will also reveal that our daily picks will give you better results.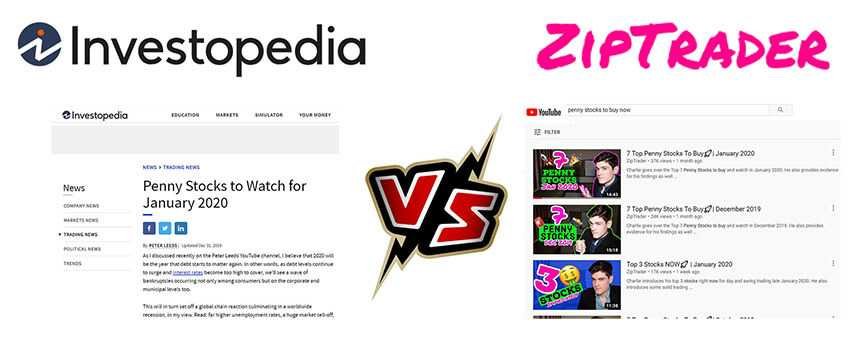 Both Investopedia and Ziptrader update their pages once a month to find their top stock picks that are less than $5.  Along with their picks, they tell you why they recommend each stock they pick.  Investopedia will most of the time recommend 6 penny stocks each month, while ziptrader will recommend 7.  Some of those numbers can change. For a few months, zip trader was only having a list of 5 stocks instead of 7.   We are going to use the same trading strategy on both so there is no bias towards one over the other.  Let's first look into the trading method that we going to use.  This is a swing trading strategy based on different time frames to find the results based on historical data. 

Explaining the Swing Trading Strategy
The data above is coming from the video that was posted from ziptrader on December 23rd 2019.   I need to explain the data above so when you above the pdf file with all the data from 2019 for ziptrader it will make sense to you.   That date that is placed at the top of the yellow section of the data above matches the video posting date.  That is important to note because the trades began the follow date for whenever investopedia or ziptrader post their update. 
Entry Price: This data is based on buying the stock at opening price the following date after the post date.  So the entry prices for this example above is December 24th 2019.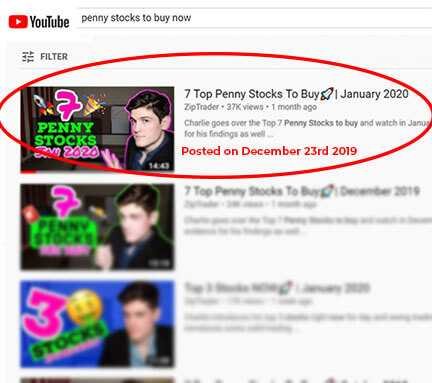 Weekly Data: All this Data is coming from looking at the historical data from yahoo finance.  The 1st Week is 5 business days past the entry day. The 2nd week is 10 days past the entry date.  The 3rd week is 15 days and the 4th week is 20 days.  
To help make this clearer, we are going to look at ITCI stock as an example.  This is the number one pick for January.  As you can see the entry date for ITCI is January 24th at $39.88 per share. For the weekly data, it is based on the closing price of the shares.  Circled in navy blue is the 1st week at a close price of $33.12.  The 2nd week in purple is a close price of $25.43.  As you can see the pattern, the 3rd week is based on the close price of January 16th at $26.63. Finally, the 4th week is in circled in orange and that closing price is $23.61. 
Why aren't you using stop loss? 
Based on doing one year of research, the stop losses are triggered within the 1st week more than 50% of the time.  Our stop loss price was set at 6%.  Even with the stop loss price set at 10%, it didn't trigger as much but the results were pretty much the same.  I believe the reason behind this is the volatility of penny stocks. 
Comparing the Historical Data from Investopedia vs Ziptrader
In collecting this data, it was easier to collect from youtube since I could easily back track a whole year of past trades. With investopedia, they update their blog once a month but there is no way to go back to previous months.  Unfortunately, I only started collecting data from October.  That is why I only have 4 months of data.  I planning to update this blog again, once I collect a whole year worth of data.  You will need to wait until November 2020, for me to finish collecting the historical data. 
Unlike ziptrader, I do not cover holding the stock for 1 week because it is usually more profitable to hold at least 2  to 4 weeks.  One great thing about investopedia picks over ziptrader is they are less volatile which means they are generally safer to hold for longer periods of time.  Let's go ahead scroll down to the bottom of the data sheet. This part is the most important to look at because it gives you a glimpse of gains and losses over a longer period of time rather than just one month.   The least profitable was holding the stock for two weeks.  As you can see it was in the red will a lost of 1 percent.  With a gain of over just 1 percent, three weeks wasn't much better.  With investopedia picks, the most profitable is holding the stock for 4 weeks.  I highlighted two areas in this section.  The reason behind that is to show you having two picks at four weeks gave you percentage gains for around 20 percent.  Trading all 6 picks each month would give you 5% gains over 4 weeks in time.  Investopedia can be fair gains in penny stocks to buy now.
Looking at the past trades of ziptrader, you can tell right away that it isn't advisable to only hold for 1 week.  If you scroll down to the last page, you can see almost all the averages are negative with the overall average being a lost of 5 percent for the 1st week.  I definitely would not trade all 7 picks.  I would only trade the first 3 to 5 picks.  It seems 2 weeks is the best to hold with gains ranging from around 40% to 20%.   But you might be saying, "I get your point on not trading all 7 picks because all of them are negative; however, what about just trading the first pick and holding for 3 to 4 weeks?"   I see your point in that and that is why I highlighted that section in green.  Wow – Gains of 100% for the years.  However, look at the 2nd pick with almost double lost on that.  What if you picked the wrong side of the coin.  You would be screwed.  But overall, the gains are not bad.  If you can achieve around 40% gains in a year that is pretty good.  
TradeStockAlerts - Penny Stocks to Buy Now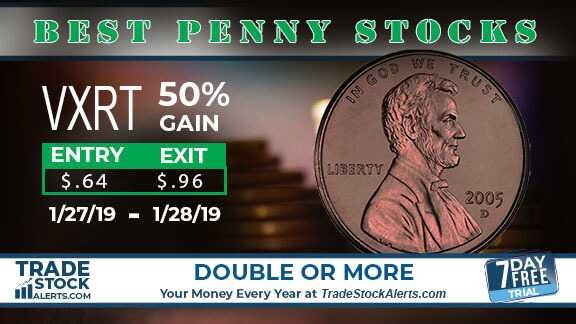 Now, that I have discussed the top ranked chooses for penny stocks to buy now. Let's look at my picks.  My system of trading is much different. I hold each stock for less than 24 hours.  I do a lot of trades and in doing this have a greater safety net plus better gains.  
Just a few days ago, one of our stock picks net a profit of 50%.  That is one of the four stocks that was picked.  Was still up over 11% for that day. 
Over 240% Profit in 2019! - Penny Stock Alerts
Averaging 20% in Gains Per Month!
When trying to find that perfect gem to trade to make huge profits, we can unfortunately end up with a lot of losses. Instead of only taking in small profits through other alerts, sign up with us to maximize in better percentage gains.
Looking at the side, our alerts have been very successful for 2019. We only had one negative month; furthermore, our best gains were for December with gains of over 60%. That is huge! In you are interested in looking at our results from all three of all trading strategies you can check out our daily stock picks for you to decide to trade. We also offer a 7 day trial we all our alert services. Please give us a try and see your profits soar for 2020!