OUR Best Penny Stock Alerts Have Gained Over 220% for 2019!
Our Penny Stock Alerts are the most popular alert service that we offer out of the three. It has averaged over 18% per month in gains for 2019. The reason behind penny stock alerts being so popular is because you can make a killing in just one trade! It is an awesome feeling to double or more your money with one of our daily stock picks which we have had happen more than once.
In the first week of October of 2018, one of our stock picks more than double in price. MNGA went from 23 cents to 57 cents for a total gain of over 147%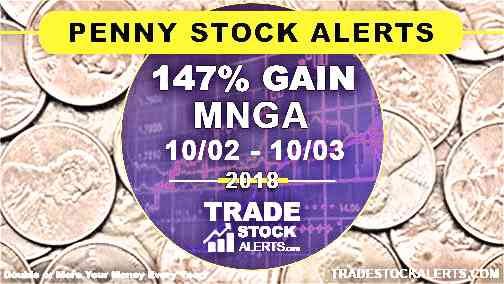 How do our Penny Stock ALerts Work?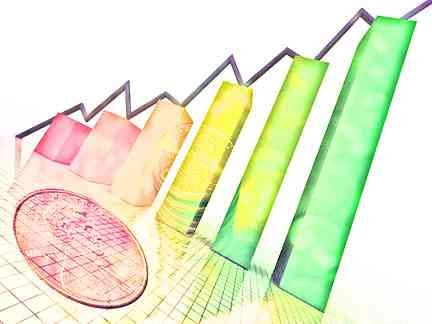 Our penny stock alerts work the same as our swing trade alerts. The alerts are  updated around 15 minutes before the market closes. You basically hold the stock overnight and sell it when the market opens in the morning. With all our stock alerts, you will receive three stocks to trade daily. The reason behind this strategy so not all your money goes into one stock.
HOW MUCH MONEY DO I NEED TO GET STARTED?
Any amount of money would be fine to start with. You can start with as little as $5.00 in your account. Since they are penny stocks you can still fit at least 5 shares into your purchase even with just 5 dollars! The other good news, when you sign up, we will show you how to trade 100% commission free.
Each week will vary on gains. Some weeks you may have huge gains and other weeks no gains at all or even loses. The good news is our best penny stock alerts have the best reported gains compared to our other stock trading services. Please check out our results to see more details on the gains so far this year. 
WITH OUR PENNY STOCK ALERTS THERE IS NO GUESSING WHEN TO BUY & SELL
 Our trade alert system is so easy to follow. There is no need to wait for alert signal to be sent out.  Our penny stock alerts are updated on our website around 3:45 pm ET.  There will be a selection of four different stocks to buy.  You can purchase the stocks any time from 3:45 to 4:00 pm. You can choose anytime in those last 15 minutes to buy the stock picks, just make sure to purchase it before the market closes.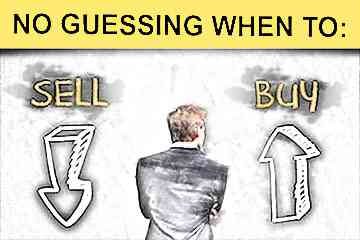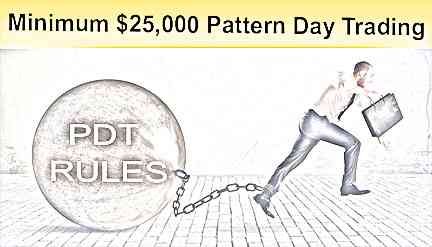 ANY AMOUNT OF MONEY YOU CAN GET STARTED!
Because we hold all our penny stocks overnight there is no need to have $25,000 dollars which is a requirement to make pattern day trades. You will receive 4 daily stock picks per day for a total of 20 stocks to trade each week.  Our penny stock alerts work exactly the same as our swing trade alerts except in the price of the stock.  All our penny stocks are less than twp dollar.  Just like stated above, you can start trading with as little as a 5 dollar bill!
The Problem with "Free Penny Stock ALerts"
Implementing months of research to finding out the best penny stock trading strategies, is going to give you an edge to earning cash online fast.  Before you sign up for any "free penny stock alerts" make sure they are not "low volume."  There is a reason behind this and it is very simple.  The person or company giving you that alert most likely already owns shares of this stock and are giving you an alert after they already made the purchase.  Since the volume is so low, your purchase is going to effect the price going up.  That is very dangerous.  Many alert services offer "free penny stock alerts."  It isn't really free! They are just pumping and dumping the stock.  All you get are the negative leftovers.  Yes we trade the penny stocks that we send alerts for but the volume is so high on our picks, that it does not effect the current price. 
 Penny stocks are a great way to earn cash online fast but be very careful. I advise if you don't feel comfortable, to only trade a very small amount of money.  That is why we offer a free trial, so you can try our service free without any commitment.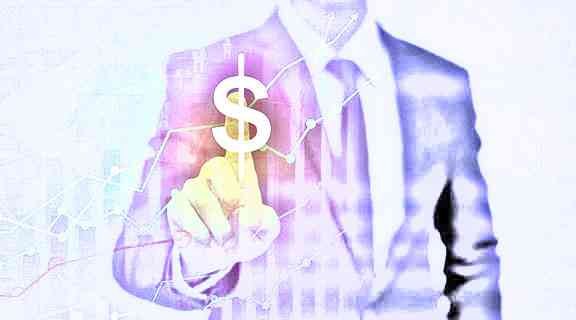 Penny Alerts
Buy & Sell Same Time Everyday

100% Commission Free Trades
Swing & Penny Alerts
$59.9
$
49
Per Month
Total - Eight Daily Stock Picks

Buy & Sell Same Time Everyday

100% Commission Free Trades
Day, Swing, Penny Alerts
$89.85
$
59
Per Month
Total - Ten Daily Stock Picks

100% Commission Free Trades

Three Alerts for the Price of Two!
We believe our free penny stock alerts trial will be of great value to you. If you wish to discontinue using, no problem. You can unsubscribed at any time via Paypal by clicking HERE.
Just finished the trial service with the penny stocks and already up 5 percent.

Yash Patel


July 18, 2019

Just sign up a few days ago. So far profitable in the trades. look forward to more good alerts.

Jose Rico Zaldariaga


October 26, 2018

Mostakin Hossain


October 3, 2018